How can we identify high impact charities to support?
Posted on June 7, 2016
Nearly 180,000 charities exist in England and Wales today. The vast majority do incredible work in our communities, our schools, our hospices and overseas.
But they don't all get recognised for their selfless dedication and commitment. Unfortunately, charities are often in the news for the wrong reasons.
When the government-backed charity Kids Company was shut down recently by the Charities Commission, questions were rightly asked of the management, but also of the auditors.
High impact charities
For example, Oliver Letwin, who has overall control of the Cabinet Office, told the Public Administration and Constitutional Affairs Committee inquiry into the charity that "the evidence we were getting from the auditors was not evidence of something that was financially mismanaged in the way that it has now come to light that it was."
The Charities Commission says defaulting on submitting accounts is also a habitual problem – 76% of defaulters have done so more than once. One in five have defaulted for five years running. This includes some of the prominent community organisations in the Asian community.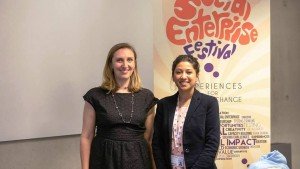 Charity Clarity is what a recent Forbes article called the "first rating tool and technology platform for charities." Within a year of being launched, this technology start-up has nearly 400 charities listed on the website, many of which we actively help with grant applications often worth up to £80,000 with a decision on obtaining the grant within two days.
Some of the figures from Charity Clarity's data are interesting. Charities which get 3.5 stars out of 5 or more have nearly 40% more women in their trustees or management team than the lowest rated charities. They have an income growth of double that of charities rated between 2.5 and 3.5 stars. The highest rated charities had income growth of 64% over the last three years, compared to just 32% for the latter ones.
The highest rated charities also have the greatest clarity over how trustees are appointed and empowered to do the role to the best of their ability.
So Asians that are looking to give to wonderful causes could use Charity Clarity's database to do so.
It clearly identifies the best performing charities, and highlights the ones with poor governance and financial health for example.
But there are at least 2,000 registered charities in England and Wales that say they focus their efforts on development or related work in an Asian country. For East Africa, this figure is not far behind at 1,700. In fact there are 962 charities that identify India as a target area for them, but 480 that say Uganda and 599 Kenya. Of course, many more identify their adopted home as the focus of their efforts, with at least 14,000 charities say their focus is throughout England and Wales.
However you donate and engage in social action, choose wisely. Pick charities that dream big, are innovative and can help change the world for the better. If your chosen charity has poor governance, or issues with finances, tell us about them at contact@charityclarity.org.uk