Successful charity training for Award winners 2016
Posted on September 15, 2016
As a prize for the winners at the Asian Voice Charity Awards powered by Charity Clarity hosted a two-day charity training accommodated by Sarasin & Partners based in Central London. The charities in attendance include: Magic Bus, My Life Films, Polio Children, Shanti Life, AgriLedger, Asian Circle, Good Works, GB Foundation and Gwalior Children's Charity. This two-day event is intended to provide the attendees with value and insight into how they may be able to further grow their respective charities.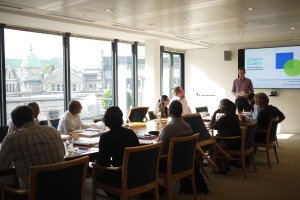 Day one of the training began with an introduction from Charity Clarity and Sarasin & Partners regarding logistics and other supplemental information about the event. This was followed by a brief introduction from each of the attendees stating who they were, why they were here and what it is they wanted to get out of the training. Moving forward, after some coffee and delicious biscuits, we heard from Pratik, the founder and director of EPG, explaining what Charity Clarity offers and how we utilize our data. After getting an idea of Charity Clarity, we then had the privilege of hearing from Sarasin & Partners and some of the investment options they offer.
They provided the group with an understanding of the fundamental principles of charity investment, as well as their responsibilities as a trustee or charity manager. Following a very healthy lunch provided by Sarasin & Partners, the legal partners at Stone King LLP gave us some insight into the dynamics of charity trusteeship. In addition, they advised the group to pay close attention to trustee legal duties as well as the relationship between management and trustees. In line with the theme of the day, we enjoyed some light conversation over coffee and tea before hearing about insurance from our friends from Policy Bee. They did a brilliant job of making the not so entertaining insurance policies very interesting through interactive games and riveting visual aid.
The final presentation of the day was given by Madhava, the founder of Cove Ventures, regarding sentiment analysis. He went into great detail how sentiment analysis uses natural language processing, text analysis and computational linguistics to identify and extract subjective information to promote charities in a positive manner. At the end of the day we heard from a wide range of speakers, whom provided very valuable information to further grow and a charity.
After a very successful first day, we started day two with a presentation from Charity Clarity outlining the social impact analysis. This analysis uses several metrics to provide insight for donors, trustees and funders looking to donate or invest in a certain charity. Over some coffee and tea, the attendees chatted amongst each other about some of the common questions and concerns when measuring a charity's social impact. Moving on the more technical side, a representative from Core Bid Management, outlined the power of Google AdWords and how it is tailored specifically to charities.
Google AdWords Grants are available to registered charities and as John said many times, it is an obvious investment towards increasing awareness. The first presentation of the afternoon entailed social enterprise, more particularly how social enterprise can generate revenue through trading. As any long day should be treated, the group took a quick break while enjoying each others company before the final two presentations. Hendrix Media then provided a splendid presentation regarding digital marketing/email and the importance for charities to use this service. To finish the event, we were pleased to welcome Shiura Rasheed from Thomson Reuters Foundation who provided the group with information about a free law service called TrustLaw and their commitment to create social and environmental change.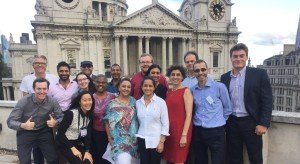 As a method of wrapping the long two-day sessions together, Charity Clarity once again took the stage and reviewed the objectives of the event. This included very insightful feedback from numerous charities and any remaining unanswered questions the attendees still had. We want to extend a huge thank you to the attendees for their continued support and of course our hosts Sarasin & Partners for the brilliant hospitality!
NuSound radio will broadcast highlights and interviews from the Charity Training in weekly segments, so watch out the space.
Charity Clarity will be hosting another training session again this year in December. If you're interested in attending, please email contact@charityclarity.org.uk.