How we judge the Awards – by Subhash Thakrar
Posted on June 1, 2018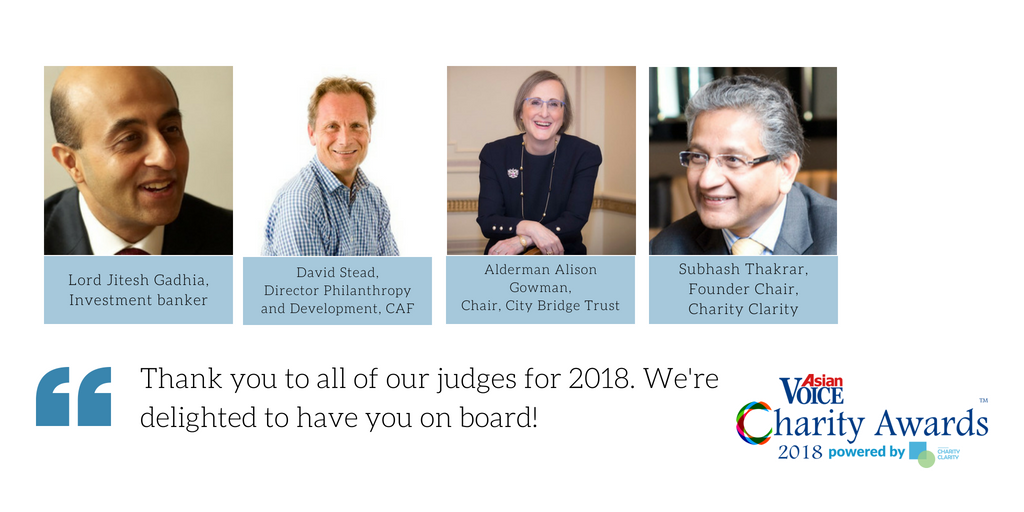 Judging the third edition of these Charity Awards this year was as difficult as in previous years, and yet a very different experience.
Each year, we get a diverse range of charities applying from all walks of life. Some are small and nimble, with the huge weight of achievement but without the experience to express their impact in our standardised application template. Others have a long history of accomplishments, but have gone through acute funding challenges and reinvention periodically every few years. Others yet may have grown to a size where they represent an entire sector; when they speak, others listen, giving them not just a local but an international impact.
How does one compare each of these on our preferred metrics of Impact, Innovation and Inspiration?
We grappled with this as judges once again this year – comparing applies and bananas, charities and social enterprises, individuals and organisations.
Three things make the judging process for these Awards unique.
The first is the independence with which the judges operate. Only two analysts in the Charity Clarity team see the nominations, both in the Bangalore office. They are responsible for bringing the high volume of applications down to shortlist for the judges based on Charity Clarity ratings. The London teams for Charity Clarity or Asian Voice do not get to see the results or sway the process in any way.
The second is this emphasis on shortlisting nominees through the Charity Clarity rating process. Each charity is rated on the basis of 18 metrics, from more than 100 data points, including on Financial Health, Transparency and Accountability and Accessibility. This way, if nominee has been exceptional in one part of its operations highlighted in the application, but has skeletons in the closet elsewhere, we'll get to see them. The lowest ratings charities get are generally related to their governance processes. The highest is often around their external communications – website, social media and newsletters, which today's savvy charities find it easier to do.
The third is the diversity of the judges. A good judging panel should have different perspectives meeting together rather than an echo chamber. Certainly, in our meeting, we had competing views on shortlisted candidates and some of these were expressed quite freely.
David Stead has a proud background as a supporter of other Charity Awards and initiatives that support the growth of the sector across the country. Alderman Alison Gowman brought the eagle eye for detail of an accomplished lawyer, and a keen perspective on the relative merits of organisations from her time as the Chair of the City Bridge Trust. Lord Jitesh Gadhia is the youngest Asian peer in the House of Lords and has had a distinguished career in investment banking, so he got to the heart of the matter quickly.
My own background as the Founder Chairman of Charity Clarity has meant seeing the Awards up close each year, and being privy to reviews of lots of charities over time. Each year, it's refreshing to see a new crop of applicants that are adding to the social fabric of Britain, contributing in ways whch are impactful, innovative and inspiring.
In three years, the Awards have made quite an impact. We hosted a spectacular Xmas fundraising event with Britain's first blockchain-based lottery Quanta for one of our Award winners last year, created marketing videos for several of the winners, raised around £10,000 in a 'charity pitch' event, helped winners win funding applications, elevated their brand onto a national stage and helped create impact. And yet, we have a way to go.
We want to grow, do better and make a bigger impact. As Mahatma Gandhi said, we should be the change we want to see in the world. And as the special guest interview with one of Britain's richest people, GP Hinduja, showed, contributing to charity helps you become a better entrepreneur and businessperson.
 Subhash Thakrar is the Founder Chairman of Charity Clarity and one of the Judges.