Seamless pathways out of poverty for smallholder farmers and their communities
Posted on May 29, 2019
Facilitating Sustainable Inclusion / Facilitating Sustainable Paths out of Poverty
The Sophia Akash Foundation, CIO (SAF) is a UK based charitable foundation that helps develop sustainable paths out of poverty for poor and unserved communities by incubating, nurturing and developing the institutional efforts of bright, innovative and passionate social entrepreneurs. 

As a result, these social enterprises deliver affordable access to important services that help improve the livelihoods of these communities (e.g. financial inclusion, sustainable farming, healthcare, education, renewable energy) using proven business models that are operationally efficient, scalable, economically viable and very often replicable.  
The Potential of Africa's Agriculture Sector  
The plight of small-holder farming communities across Africa is well documented. With average productivity at 36% or less; up to 40% of any harvest is wasted due to lack of storage facilities and access to market, and ever-increasing climate change impact often decimating large swathes of crops, 78% of Africa's rural population remains in constant poverty. 
Through the planned collaboration with our social enterprise partner, Rhaaste, we will help deploy sustainable farming methods that increase the efficiency and utilization of these farmers' principal assets (i.e. land, water, seeds, etc.), introducing better farming practices that help attain greater yields from harvests and reduces wastage. This will facilitate increased incomes, food production, and foster greater economic development by providing skills training and jobs for the women and youthful members of their households and help their communities to slowly, and surely progress out of poverty.
Establishing Technology Enabled Hubs for Kenyan Smallholder Farmers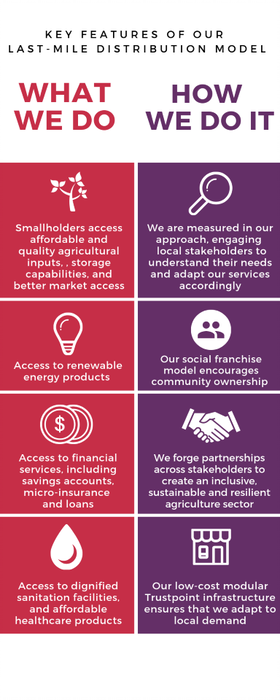 Using proven models for sustainably delivering financial inclusion and sustainable farming, Rhaaste will establish a community-led hub and spoke model, supported by innovative technologies with which the small-holding farming community of Kwa Kyai in Kibwezi, Eastern Kenya will be helped to become more productive. 
With solar-powered, kiosk–based spokes, digitally connected to similarly equipped hubs, Rhaaste will facilitate access to basic financial services, including access to credit, improved Agri-Inputs (e.g. seeds, fertilizers, etc.), greater financial and health literacy, better farming practices, storage facilities and organised access to markets for the 400+ small-holding farmer households of Kwa Kyai. 
With scheduled logistics and transparent access to market prices, Rhaaste will strengthen the smallholders' link to markets and ensure that farmers will be able to grade and store their harvests, sell their crops at fair market prices, thus increasing their incomes. 
Upon reaching scale, Rhaaste's model will similarly empower another 15,000 households within the same region and ultimately across many other village communities across rural Kenya using similar infrastructure and partnership-based delivery models. 
Help (us!) Meet the Need
During the next two years, we aim to help Rhaaste establish the first Hub & Spoke facility which will ultimately serve 15,000 small-holding farmers of which at least half will be women. With an economic investment of £200,000 coupled with additional human and technological resource investment, our efforts will be measured and organised as efficiently and as prudently as possible. Reaching these goals and expected outcomes will prove challenging. We are looking for like-minded changemakers and collaborators to join us!     
To learn more about our Foundation's work and the innovative Rhaaste effort, and/or if you wish to partner with us to help implement these innovative efforts, we welcome you to contact us at info@sophiaakashfoundation.com.